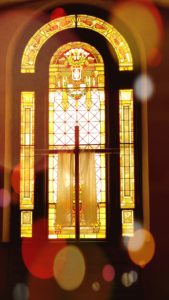 Conceived in 1893 as a mission church meeting in member's homes, the Pitcairn First United Presbyterian Church by 1895 had received its charter and was meeting in an old white frame school house on Eighth Street in Pitcairn.  Our first ministers were seminary supplies, one of which headed for a mission charge in Egypt, which roused a life-long interest and support from our congregation for global missions.  By the time our first full-time minister, The Reverend T. L. Jamieson, came in 1898, we were established in our newly erected white frame church building on the corner of Third and Highland Avenue in Pitcairn.
By 1916 the congregation had outgrown the original church structure and began preparation for a larger more suitable sanctuary. The plan involved moving the manse of the church to its current location on Highland Avenue and moving the chapel up the hill on Third Street to become the current church office and Sunday school rooms. On the corner of Third Street was erected the present familiar domed sanctuary that stands today.
During the tenure of Reverend David Williams, on February 22, 1981 the congregation overwhelmingly voted to leave the United Presbyterian Church (PCUSA) and joined the Presbyterian Church in America (PCA) as The Presbyterian Church of Pitcairn. The Presbyterian Church of Pitcairn has a rich history of outreach and service to the community of Pitcairn and continues, even from its humble beginnings, to have a desire to see disciples of Christ made of all nations through the financial and prayerful support of global missions. The Presbyterian Church of Pitcairn continues to long to see the Kingdom spread from our local community to the ends of the earth.